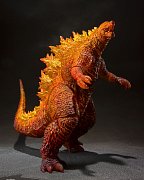 Godzilla: king of the monsters 2019 s.h. monsterarts actionfigur burning godzilla 16 cm --- beschaedigte verpackung
EAN:

55443951

Produktionsnummer:

BTN58748-0DAP
Lagerverfügbarkeit
Auf Lager beim Lieferanten:
>5 Stück
Beschaedigte Verpackung

Aus Tamashii Nations\' \"S.H. MonsterArts\"-Reihe kommt diese großartige Actionfigur aus dem 2019er Blockbuster \"Godzilla: King of the Monsters\". Sie ist ca. 16 cm groß und wird mit austauschbaren Teilen in einer Fensterbox geliefert.

Bei diesem Artikel ist die Verpackung beschaedigt. Der Artikel selbst ist in Ordnung.