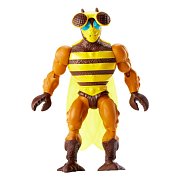 Masters of the Universe Origins Actionfigur 2022 Buzz-Off 14 cm
EAN:

194735030705

Produktionsnummer:

MATTHDR88
Lagerverfügbarkeit
Auf Lager beim Lieferanten:
>5 Stück
27.00 €
Detailreiche Actionfigur aus Mattels \"Masters of the Universe Origins\"-Reihe. Sie ist ca. 14 cm groß und wird mit weiterem Zubehör in einer Blisterverpackung geliefert.

Wichtiger Hinweis: Bei diesem Artikel ist voraussichtlich die Nachfrage höher als die verfügbare Menge, was zu Kürzungen oder Streichungen der bestellten Mengen führen kann.