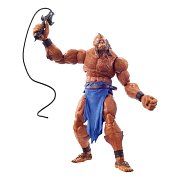 Masters of the Universe: Revelation Masterverse Actionfigur 2021 Beast Man 18 cm - Beschädigte Verpackung
EAN:

16341307060902

Produktionsnummer:

MATTGYV16WMS1DAP
Lagerverfügbarkeit
Auf Lager beim Lieferanten:
>5 Stück
21.00 €
Masterverse ist eine aufregende neue Actionfigurenreihe von Masters of the Universe, die eine spannenden Neuauflage von Masters of the Universe feiert: der Netflix-Zeichentrickserie Revelation! Dank mindestens 30 Bewegungspunkten sind die Figuren enorm beweglich und werden von Accessoires wie Kampf-Zubehör oder zusätzlichen Händen ergänzt - für aufregenden Geschichtenspaß. Ein absolutes Muss für gestandene Sammler und Fans, die sich über diese detailgetreue Wiederbelebung von MOTU für die Zukunft freuen. Bei der Macht von Grayskull!

Wichtiger Hinweis: Aufgrund der großen Nachfrage für diesen Artikel kann es bei Auslieferung zu Kürzungen der bestellten Mengen kommen.