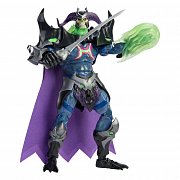 Masters of the Universe: Revelation Masterverse Actionfigur 2021 Skelegod 23 cm - Beschädigte Verpackung
EAN:

16279745196100

Produktionsnummer:

MATTGYV17WMS1DAP
Lagerverfügbarkeit
Auf Lager beim Lieferanten:
>5 Stück
17.00 €
Masterverse ist eine aufregende neue MOTU Actionfigurenreihe, die mit ihrer ersten Welle den Start einer spannenden Neuauflage von Masters of the Universe feiert: der Netflix-Zeichentrickserie Revelation! Diese detailgetreu gestaltete Masterverse Skeletor Figur ist fast 23 cm groß und kann dank 30 Bewegungspunkten Posen aller Art einnehmen. Zu der Figur gehören auch Kampf-Zubehör und zwei zusätzliche Hände für tollen Geschichtenspaß. Ein absolutes Muss für Sammler und Fans, die die MOTU Tradition pflegen und ihre Modernisierung zu schätzen wissen. Bei der Macht von Grayskull!

Wichtiger Hinweis: Aufgrund der großen Nachfrage für diesen Artikel kann es bei Auslieferung zu Kürzungen der bestellten Mengen kommen.