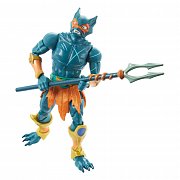 Masters of the Universe: Revelation Masterverse Actionfigur 2022 Mer-Man 18 cm
EAN:

194735030309

Produktionsnummer:

MATTHDR43
Lagerverfügbarkeit
Auf Lager beim Lieferanten:
>5 Stück
41.00 €
Masterverse ist eine aufregende neue Actionfigurenreihe von Masters of the Universe, die mit ihrer ersten Welle den Start einer spannenden Neuauflage von Masters of the Universe feiert: der Netflix-Zeichentrickserie Revelation! Diese Masterverse Collection umfasst He-Man, Skeletor, Evil-Lyn, Beast Man und viele weitere Helden und Schurken, die allesamt mit viel Liebe zum Detail gestaltet sind. Dank mindestens 30 Bewegungspunkten sind die Figuren enorm beweglich und werden von Accessoires wie Kampf-Zubehör oder zusätzlichen Händen ergänzt - für aufregenden Geschichtenspaß. Ein absolutes Muss für gestandene Sammler und Fans, die sich über diese detailgetreue Wiederbelebung von MOTU für die Zukunft freuen. Bei der Macht von Grayskull!

Wichtiger Hinweis: Bei diesem Artikel ist voraussichtlich die Nachfrage höher als die verfügbare Menge, was zu Kürzungen oder Streichungen der bestellten Mengen führen kann.