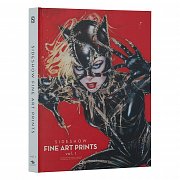 Sideshow Collectibles Buch Fine Art Prints Vol. 1
EAN:

9781647222161

Produktionsnummer:

SS501129
Lagerverfügbarkeit
Auf Lager beim Lieferanten:
>5 Stück
Sideshow Collectibles präsentiert dieses großartige Buch mit zahlreichen Abbildungen der schönsten Art Prints von Figuren und Statuen aus dem DC, Marvel, Star Wars Universum, und anderen legendären Klassikern wie Terminator, Transformers, Masters of the Universe. Ein optischer Leckerbissen nicht nur für Sideshow-Sammler!

Das 200-seitige Buch im Format 30 x 23 cm verfügt über einen luxuriösen Hardcover-Einband mit Prägedruck. Es wurde in englischer Sprache verfasst, aber es wurde nur wenig Text verwendet, der Fokus liegt ganz auf den Fotos. Somit werden auch nicht Englisch sprechende Leser ihre Freude an diesem Buch haben.