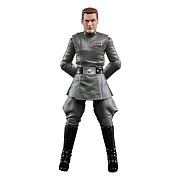 Star Wars The Bad Batch Black Series Actionfigur 2021 Vice Admiral Rampart 15 cm
EAN:

5010993874262

Produktionsnummer:

HASF2932
Lagerverfügbarkeit
37.00 €
Vizeadmiral Rampart möchte mit seiner Rolle im neuen Galaktischen Imperium für Ordnung in der Galaxis sorgen.

Sowohl Kinder als auch Sammler können die größten Momente und Missionen der Star Wars Saga mit Figuren aus der Star Wars Black Series nachspielen! Mit besonderen Funktionen und einem tollen Design verkörpert diese Serie die Qualität und Authentizität, die Star Wars Fans lieben. Star Wars The Black Series umfasst Figuren, Fahrzeuge und Rollenspiel-Produkte zur über 40-jährigen Geschichte der Star Wars Galaxis, einschließlich Star Wars Comics, Filme und Serien.

Die 15 cm große Black Series Figur ist detailgetreu, sodass sie dem Vizeadmiral Rampart Charakter aus Star Wars: The Bad Batch gleicht und verfügt über ein Premium Design und mehrere Bewegungspunkte.