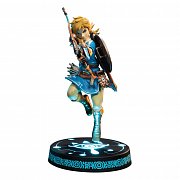 The legend of zelda breath of the wild pvc statue link collector\'s edition 25 cm --- beschaedigte verpackung
EAN:

62736549

Produktionsnummer:

F4FBOTWLCDAP
Lagerverfügbarkeit
Auf Lager beim Lieferanten:
>5 Stück
Beschaedigte Verpackung

Aufgeweckt aus einem 100-jährigen Schlaf muss Link die Wildnis erforschen um seine verlorenen Erinnerungen wiederzuerlangen und Hyrule zu retten.

Zum Videospiel-Kracher ´The Legend of Zelda: Breath of the Wild´ präsentiert First 4 Figures diese detailreiche Statue vom Hauptprotagonisten: Link.

Die aus hochwertigem PVC gefertigte Statue ist ca. 25 cm groß und wird mit passender Base in einer bedruckten Fensterbox geliefert.

Benötigt 1x 18500 Akku (nicht enthalten) - separat erhältlich (DPO18500) - Inklusive Micro-USB-Anschluss (Kabel nicht im Lieferumfang enthalten)

Bei diesem Artikel ist die Verpackung beschaedigt. Der Artikel selbst ist in Ordnung.